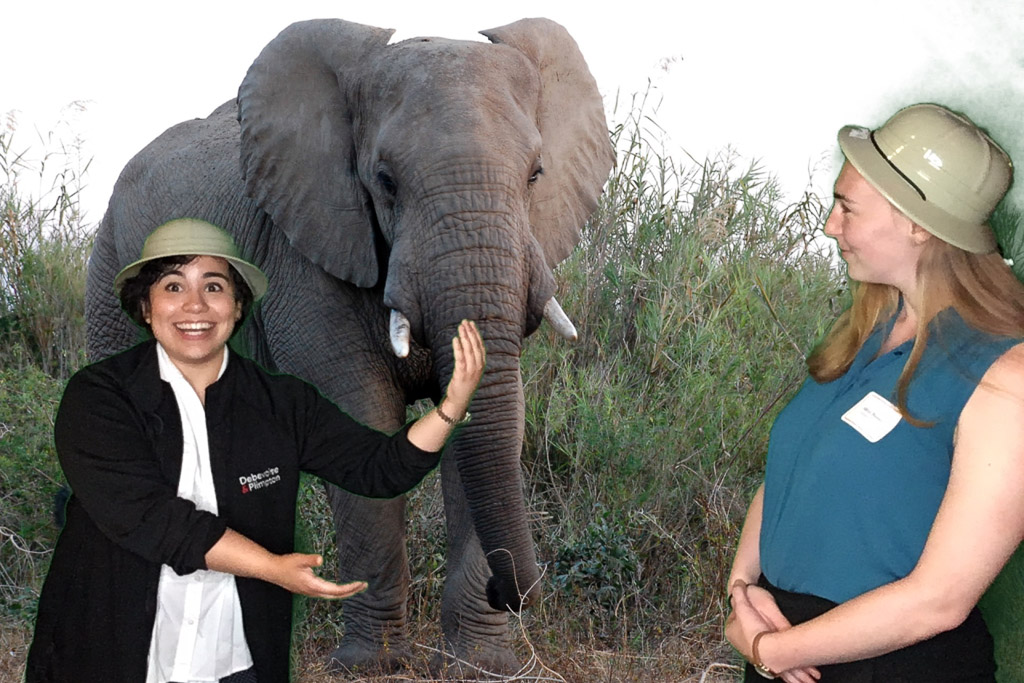 23 Oct

Not a Safari — It's Green Screen Photography
They're not on an African safari — it's Green Screen Photography!
Green Screen photography takes your event photos one step further, enhancing them with a variety of backgrounds. We can make your photos look like a magazine masthead — real or imagined. Make your guests look like they're in the Swiss Alps, or on a tropical island. Even land them on the moon! Just about any image you imagine can become your photo backdrop.  It's a creative and memorable way to reinforce your event's take-away message.
When you want an abstract or hard-to-find backdrop image for your photos, Green Screen photography is the answer. Let's say you want a backdrop with a bright burst of specific colors, but don't have the time to find it or the space to put it.  Tell us what background you want and we'll give you a bunch of options. Then, you choose which backgrounds you like best.
Even better, you're not limited to just one background.
Green Screen photography allows you to offer a selection of background options. This keeps your guests more engaged and entertained. With a variety of backgrounds, you can convey your theme or message in different ways. You'll also give people a reason to take more than one photo. Then, when you encourage everyone to post their Green Screen photos, your branding message gets even more exposure.
Green screen photography works with a photographer taking the photos, and with our YouBooth photo booth. This gives you options to choose the method that works best for your event.
For a family event at the Central Park Zoo, produced by Thomas Preti Events, 5th Avenue Digital's YouBooth photo booth took guests on safari. We provided a choice of safari-themed Green Screen backgrounds. We had a cougar on a rock. A pair of zebras. A roaring lion! Event attendees looked like they were on an exotic adventure, even in the heart of Manhattan. With Green Screen Photography, 5th Avenue Digital takes you anywhere you want to go.
Find great ideas for Green Screen backgrounds here!