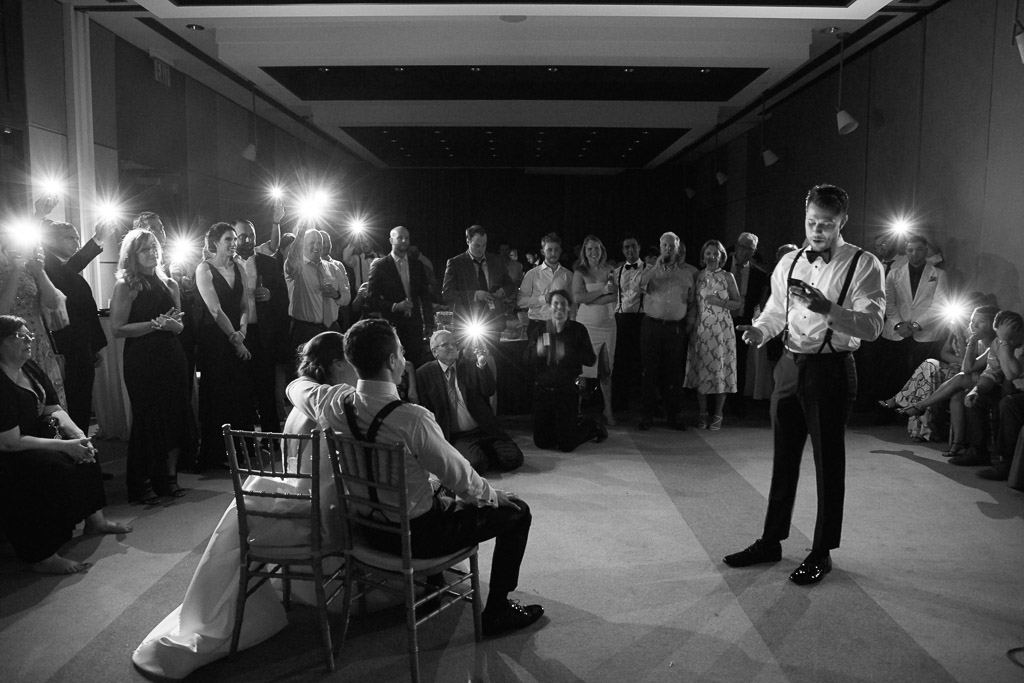 23 Oct

Challenge for a New York Wedding Photographer
The blackout last July didn't deter this New York wedding photographer.
New York wedding photographer David Nicholas faced down a major challenge during last July's blackout. Dozens of wedding ceremonies and receptions ground to a halt in the darkness when the blackout hit. Most wedding couples chose to postpone the reception and do it all again another day. Others decided to make the most of the situation, rally together, and carry on with the festivities anyway. These situations create family lore! It's often the "ruined" wedding that's the most fun — and the most memorable.
This is what Elizabeth and James discovered when the power went down at the Parker New York. Their wedding ceremony had just taken place on the third floor of the hotel. The cocktail hour was about to finish when everything went black. Forty floors above, the band was waiting for everyone to come up for the reception. The room, beautifully decorated, was being photographed by the second wedding photographer. The gorgeous wedding cake stood ready to be cut. But there was no way for everyone to get up there, except climbing hundreds of stairs to the top floor.
So they brought the wedding reception downstairs.
One speaker was running on battery and a savvy guest had a good playlist. The bar was open. The hotel kitchen made sandwiches. The second wedding photographer took the steps down to help cover the reception. The musicians trekked downstairs and played acoustically. Speeches were given. Everyone sweat through their shirts and danced the night away.
The bride concluded, "While having a blackout occur minutes before your wedding reception may seem incredibly unlucky, James and I still consider ourselves to be the luckiest people in the city. The love and support that we felt from our family and friends was all we needed to light up the room."
David summerizes, "The moment that stands out for me is the couple's first dance. At this point, the power had been out for a good hour. The bride entered the room as a John Mayer song called 'XO' played the lyrics, Baby love me lights out…you can turn the lights out. Everyone was either smiling or crying. It was…perfection."
To see what makes David such a superstar New York wedding photographer, click here.